The Media Direct Collection (Media Direct 1999)
A four CD collection with seventy songs.
Ehud Manor, winner of the 1998 Israel Hebrew Music Award, from the collection album's cover:
"Matti Caspi's music is, to me, a source of happiness, comfort, and inspiration. When I met him thirty years ago, he was a dancing soldier and sang in the Southern Command military band. The first sounds he played for my ears worked like a magic potion and I heard in them a touching intimate response to feelings I wanted to express in words. Matti's music is defined by its depth, sensitivity, warmth, humor, sadness, pain, pessimistic optimism and optimistic pessimism. All these components which coexist naturally in our lives, are only rarely linked together in one piece.
Matti's music is that rare songbird. It never gets old because it's so original, special and complex as the human soul.
Furthermore, Matti Caspi is a wonderful singer, and don't let the softness of his voice distract you from the huge technical ability and impressive range.
I love him, and I know I'm not alone in that matter".
From the Media Direct catalog:
"How can you describe Israeli music without Matti Caspi, the great composer and sensitive singer. How can you imagine Hebrew songs without: "When God First Said", "Song of the Dove", "How Come a Star", "Everlasting Alliance", "And You", "My Second Childhood", "You Took my Hand in Yours", "A Place for Care", and dozens of more touching songs. No doubt, Matti Caspi has done to Israeli music what Paul McCartney has done to world pop. And now Media Direct and Matti Caspi are proud to present you the collection containing 70 of his most beloved songs which spread over thirty years of career".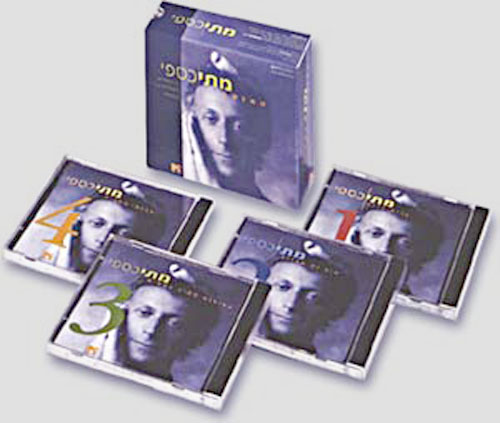 CD 1:
1. Everlasting Alliance Ehud Manor/Matti Caspi
2. And You Shlomo Gronich/Matti Caspi
3. Never Knew You'd Leave Me Ehud Manor/Matti Caspi
4. We Haven't Talked About Love Yet Ehud Manor/Matti Caspi
5. What is Love Ehud Manor/Matti Caspi
6. Day by Day I Go to your House Yaakov Pichman/Matti Caspi
7. A Love Song (Like a Wheel) Ehud Manor/Matti Caspi
8. You Took my Hand in Yours Yaakov Rothblit/Matti Caspi
9. Almost Good (Don't Apologize) Nathan Zach/Matti Caspi
10. My Girl Nathan Zach/Matti Caspi
11. She Converted Yaakov Rothblit/Matti Caspi
12. She's his and He's hers Ehud Manor/Raquel Caspi
13. Until Ehud Manor/Sasha Argov
14. My Love Depends on Nothing Haim Heffer/Sasha Argov
15. "When There's Light at your Window" Amos Etinger/Sasha Argov
16. Samba for Two Hebrew: Ehud Manor. Vinicius De Moraes/Vinicius De Moraes
17. Even One Minute (Hebrew) Ehud Manor. Adoniran Barbosa/Adoniran Barbosa
CD 2:
1. How Come a Star Nathan Zach/Matti Caspi
2. A Place for Care Yehonathan Gefen/Matti Caspi
3. Someone Ehud Manor/Matti Caspi
4. When God First Said Nathan Zach/Matti Caspi
5. No Peace Ehud Manor/Matti Caspi
6. A Bedouin Song Ehud Manor/Matti Caspi
7. "An Evening Song (Getting Complicated)". Nathan Zach/Matti Caspi
8. Silverio Hebrew: Ehud Manor. Folk, South American
9. In my House Hebrew: Ehud Manor. Martinho Da Vila/Martinho Da Vila
10. Happiness Hebrew: Ehud Manor. Vinicius De Moraes/Antonio Carlos Jobim
11. Movie about my Life Yaakov Rothblit/Matti Caspi
12. "A Japanese Fairytale". Ehud Manor/Ariel Zilber
13. "Song of the Harmonica" Nathan Alterman/Sasha Argov
14. Long Past Leah Goldberg/Matti Caspi
15. "On a Journey Day". Moshe Tabenkin/Matti Caspi
16. Another Day Rachel Shapira/Matti Caspi
17. Whoever Sings Ehud Manor/Matti Caspi
CD 3:
1. In the Hot Summer Nights Danny Minster/Matti Caspi
2. Days of Benyamina Ehud Manor/Matti Caspi
3. Song of the Dove Shimrit Or/Matti Caspi
4. You will Find the Way Shimrit Or/Matti Caspi
5. Oh What will Be Hebrew: Ehud Manor. Chico Buarque/Chico Buarque
6. Days of Drought Yaakov Gilad/Matti Caspi
7. A Song Yaakov Gilad/Matti Caspi
8. "Wagtail", Ehud Manor/Matti Caspi
9. They are in This Song Koby Loriah/Sasha Argov
10. Here Here Ehud Manor/Matti Caspi
11. Friday is Back Ehud Manor/Matti Caspi
12. A Sad City Tirza Atar/Matti Caspi
13. West from Here Tirza Atar/Matti Caspi
14 Everyone Ehud Manor/Matti Caspi
15. Not All Who Write Poems are Poets Boaz Applebaum/Matti Caspi
16. The Guitar Fell Asleep Ehud Manor/Matti Caspi
17. Twilight Ehud Manor/Matti Caspi
18. Aguas de Marco Antonio Carlos Jobim/Antonio Carlos Jobim
CD 4:
1. My Second Childhood Ehud Manor/Matti Caspi
2. A Beautiful Dream Hebrew: Ehud Manor, Portuguese: Raquel Caspi/Matti Caspi
3. Suyan Raquel Caspi/Matti Caspi
4. "My Little Sister" Ehud Manor/Matti Caspi
5. "Son" Ehud Manor/Matti Caspi
6. A Clean Folk Song Ehud Manor/Matti Caspi
7. Noah (ft. the Chocolate, Mint & Gum trio) Yoram Tahar Lev/Matti Caspi
8. Departure from Noah's Ark (Pairs by Pairs) Nurit Zarchi/Matti Caspi
9. The Sailing Song Sasha Argov/Matti Caspi
10. Little Dog Nathan Zach/Matti Caspi
11. Who has Seen Our Bunny Ehud Manor/Matti Caspi
12. "A Painting" Shlomo Gronich/Matti Caspi, Shlomo Gronich
13. Sean Raquel Caspi/Raquel Caspi
14. My Balloon Ehud Manor/Matti Caspi
15. My Dreidel Leah naor/Matti Caspi
16. "Dresses" Nurit Zarchi/Matti Caspi
17. It May Be Offensive Yehuda Atlas/Matti Caspi
18. Dialogue Ehud Manor/Matti Caspi