A very special birthday party
On November 30th 2002 we all gathered in Michal's (Caspit) small apartment in Ramat Gan to celebrate with Matti and Raquel Matti's 53rd birthday.
It was one of the happiest and most touching events we were lucky to experience with his presence.
Matti's willingness to come and celebrate his birthday with his fans from the website is admirable: we played and sang together, ate, read birthday cards, shed tears, opened presents, posed riddles, told jokes, and mostly just got excited until the tall hours of the night.
Among the rest, these things were told by Matti:
"For several months you've been sitting and singing even when I don't know of it, and sometimes when I do know, because I take a peek at the website and see and hear people's experiences. Each time I discover a new face and slowly I'm being introduced to them and it all makes me feel wonderful, because as strange as it might sound, it's some sort of an anchor to hold on to. Since we're all human and we all have different levels of sensitivity and want to relax from the stress every once in a while, so we turn to this drug called the internet, open the website and pray to see something new and interesting happening there. And every time I do that I secretly participate in your conversations. I participate and don't participate. I enjoy reading your conversations objectively and it's just cute. So I want to say to you that I feel respected and it's very flattering. I know not many artists have the privilege of having their own website, and people talking about them on a high level. And it only brings a good feeling. Even after a show when it's late and I'm on my way home tired, I go on the website and read for sometimes an hour or two without noticing. But I'm there, I want you to know that I'm there. Not like Eliyahu, I am there… and by doing that you make me feel good. Thank you so much.
Michal, I want to thank you on behalf of Raquel and me, and on behalf of many people who are not here but thank you from their hearts. Even what they thank you for is also from my heart. Even if I don't repeat it many times, or ever, I mean it".
The reactions of joy and disbelief from that evening included sentences like: "an evening that will be remembered for generations", and "we were dreaming", "total shock", "an unforgettable experience", "we have something to tell the grandchildren"…
The next day, Matti wrote the most touching things on the website's forum, and we can never forget them:
"Where have you been all these years!
One day I'll memorialize in a book all that we've been through together and apart. I will mention moments of frustration, injustice, exploitation, abuse of power, stress and suffering, delays of justice, defamation, mental upheaval, traumas, insults, hostility, jealousy, hypocrisy, corruption, bribery and more - and to all of that I'll add exact dates and non-fictional names (including public personalities) and evidence. I'm certain that had I met all of you during these years, I would've drawn strength to face this dark reality, and maybe, it would've been shortened. Wherever I looked I never saw a hand extended to help, but to take what belongs to me and my talent - which was born way before those takers have confiscated all kinds of talents to themselves. Joining them were those with positions of power, who abused their power and influence to get what they wanted, while being driven by greed.
Yesterday I said you are all like an anchor to hold on to. And I meant it. No matter what my age is compared to yours, but your presence. The word "Thanks" becomes far too gray compared to the immense feeling Raquel and I have towards you. There's an inner storm raging inside us that can't be expressed outside because of the existence of that one word - thanks - which can't be used alone as an anchor or a dam against this raging storm (I love this sentence).
All we can do is hope you could draw from our eyes many shards of gratitude, appreciation and love, and keep them with you. With love, Raquel and Matti Caspi".
באהבה, הקאו ומתי כספי."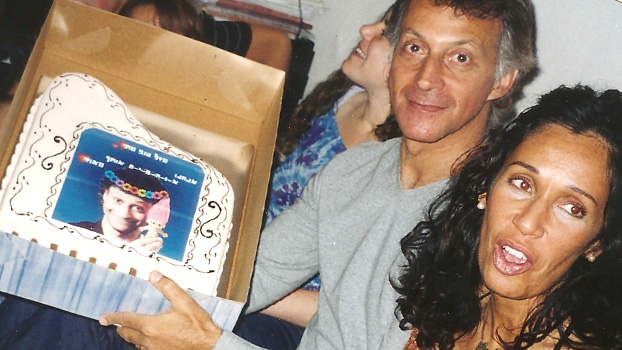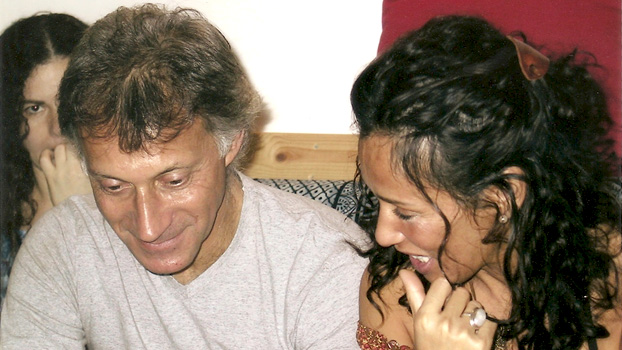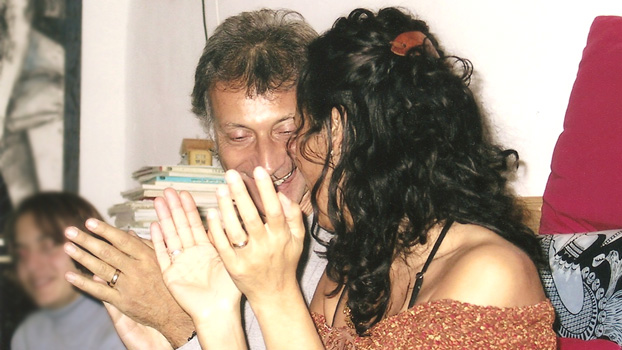 We thank Raquel and Matti Caspi who gave us such an extraordinary opportunity to show them how much we love them. It was a tremendous honor for us to sit with them in that room and sing, play, laugh and talk. We are all grateful to them for allowing us this touching and exciting experience!