Everybody Sings Matti Caspi (Isradisk 1975)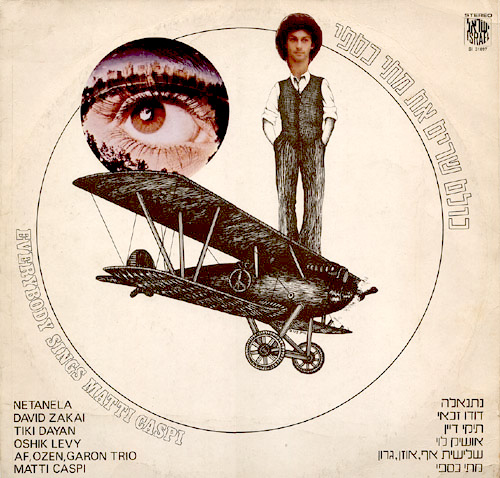 A tribute album for Matti Caspi released in 1975 by the Isradisk company - huge hits he composed, with original performances by artists signed by the company (Caspi himself was recording for the CBS company that time).
From the album cover:
"Matti Caspi as a singer composer - is undoubtedly the symbol of the change that's occurring in the musical scenario in Israel in recent years. His personal and special compositions have stood out at every important musical event and have become a success among the wide crowd, who in time has learned to get to know and honor him as one of the young and talented composers who sprang from of the IDF military bands.
This album is a first selected compilation of his old and new hits and in the original performances, which Matti joins himself in two of his typical personal compositions.
A wide mosaic of fine performers were incorporated in this album, but the most notable of all is the typical sound of Matti Caspi as a composer and musical arranger, one of the finest who grew in our original music".
Tracks in this album:
The Day will Come (Netanela)
Games (Dudu Zachai)
Song of the Dove (Netanela)
Long Past (Oshik Levy)
We Haven't Talked about Love Yet (Netanela)
Day by Day I Go to your House (Matti Caspi)
It's Good for Me at the Kibbutz (Dudu Zachai)
Son (Netanela)
May my Night Never End (the Nose Ear & Throat trio)
Who has Seen Bunny (Tikki Dayan)
Summer Night (Netanela)
How Many Songs Can you Invent (Matti Caspi)