Matti Caspi - A Biography
Matti Caspi is undoubtedly one of the most productive and influencing artists our country has ever gotten. He's an interesting composer and a versatile musical arranger who creates in an abundance of tastes and genres, and he's established a genre in Israeli music, which many artists have walked down its path after him and under his influence. From the 70's and until today Caspi has produced dosens of albums which were a great success, and was involved in the writing, arranging or composing of many more songs. The special and high quality sound, the rigour of arranging, and the versatile production of Caspi are considered to be a significant chapter on the Israeli record shelf. He is presented more than once as the one who has made a revolution in Israeli music, as one of the most versatile musicians in the nation. There's a reason musicians and composers praise and look up to him.
The Kibbutz is a paradise for kids
Matti Caspi was born on November 30th, 1949, in the Hannita Kibbutz. Sometimes, he says, he reflects on the serenity of Hannita: "I had a happy childhood in Hannita. I enloyed being alone with nature. I was very quiet. In kindergarten I would spend hours sitting on the dirty laundry box, stomping to a rhythm and singing songs. Childhood in a kibbutz is the most beautiful childhood in the world… the kibbutz is a paradise for kids. I'm still a member of the kibbutz, even after all these years".
I've thought only of music
At five and a half, when he was in first grade, he started learning how to play the recorder, then the mandolin, but after listening to Shmuel Gogol play the harmonica, he demanded his parents buy him a harmonica too because he was sure he knew how to play it. "I was a bad student, I was a weirdo, but an honest weirdo. I liked a lot being lazy. Anything that had to do with laziness made me feel good. My parents were told: he can but he doesn't want to, and I said it was true, because I've thought only of music. The truth is, no one had spoken to me about how I was. Everyone talked to my parents, the teacher, the psychologist, but not to me. I wasn't bothered that they all thought I was a dummy. Before the military service, I've thought about becoming a P.E teacher, it seemed a lot more than all those piano exercises".
Matti's father has fought for him to achieve piano lessons, and eventually they agreed in the kibbutz to purchase a piano for him. From the age of ten he learned how to play the piano at the Nahariya conservatory, for six years. "I didn't like the piano exercises. My father used to sit beside me in order to make sure I practiced an hour a day. So half of my playing was out of my own will, and the other half out of force".
The beginning of Matti's musical path
"When I was little, at the age of eight or so, I would go once every two weeks to see Shmuel Gogol's show, who would perform at the Hannita nursing home as part of the artistic program. I have done so for a long time.
Shmuel Gogol would always finish his show with a musical piece he played with a 2.5 cm harmonica, which disappeared in his mouth whenever he played it.
After a year, he approached me after one of his shows and asked me if I wanted the harmonica. He probably noticed the little boy who stood there and watched him with a fire burning within him. That's probably why he asked me that, and I said yes.
His answer was: when you tell me you started taking piano lessons, I will give you the harmonica.
From that moment on I started "nagging" my parents about the piano.
A piano wasn't a popular thing in the kibbutz, it was something no one had ever thought of. Life in the kibbutz was very strict and clear, without any tendencies to the right or left. That's why my father started fighting for me to get a piano, until the moment the kibbutz council agreed, after a recommendation of my music teacher, and after I was tested by another music teacher from another kibbutz who also gave her recommendation, to let me take piano lessons. They agreed to let me learn in another place, on the expanse of the farm - something that had never happened before. At that time the Nahariya conservatory was opened, which today is named after Raphael Dragan - who was a newly immigrant from Romania back then. Dragan was also my teacher.
My father would regularly accompany me to lessons so he could translate to Hebrew what my teacher said in Romanian. I learned there once a week.
I would practice on the piano in the nursing home in the kibbutz - an hour each day. Even if it rained. My father would go with me and was always present during my practices. In a later stage, half a year later, they bought a piano for the kibbutz's music room itself.
After my first piano lesson I went impatiently to Shmuel Gogol's show, and when it was over, I approached him and said - today was my first piano lesson. He immediately ripped his harmonica from the chain around his neck and gave it to me. I still keep it today.
After many years, in a radio program where I was interviewed in 1987, among the surprises they made for me, Shmuel Gogol came into the studio and gave me a harmonica made by the Hohner company in his name (Gogol Model) as a gift".
His piano teacher, Dragan, gave him one time a task: to write a musical arrangement for notes. Matti tried and succeeded.
Caspi mentions that task as a turning point in his musical path, because that's when he passed from theory to actual practice and he became really interested in music. He was fifteen at the time.
The Start of his Professional Path, Before the First Album
A confession
At sixteen he came to the signature program of "Kol Israel" back then: "First Applause", a competition to discover young talents. His first song he ever recorded in an album was recorded at seventeen - "The Clown of Atonements", from "Hurray to the Young".
The Southern Command band and the "They Don't Care" trio
His military service was made at the Southern Command band, where he was accepted after auditioning twice during bootcamp. It was in this band where his musical career as a composer and musical producer actually began. That's when he first started taking instruments into his hands and just playing them.
He composed two songs for the band's first program in 1968 "Music in the South", and he sang in a duet with Behira Shalom a song called "Untraceable". The next program which was recorded to an album was called "Stronghold A'A" and it included some big hits like "To Eilat" and "In Silence Cruiser". Caspi with his deep baritone, also composed, arranged and sang the big hit from the program "I'm Dead", a song accompanied by the music video which is well-remembered by all Israeli TV viewers in its first days. Caspi is seen there with Gadi Ororn and Yaakov Noy, the three were called "The Three Fatties" in the military band and have performed skits and mime, and after they were released from their military service, formed the trio"They Don't Care"".
In this trio Caspi recorded a single album in 1971 with the Pondor company. Seven of that album's songs have made it to the record which was released by Phonokol"In the First Time".").
A fateful moment
"After I was dismissed, days after the ending of my military service, I received a phone call from Arik Einstein. He introduced himself on the phone and I stood up out of so much respect for him. He told me he'd heard I wrote a beautiful melody to the lyrics of Yaankale Rothblit, and asked if I would mind coming over and play it to him ("A Colonel in Reserve"). Of course, I was extremely happy and excited. I arrived at his doorstep and didn't know whether to knock or ring the bell. I rang the bell and I remember thinking it was too loud, but he already opened the door and I saw him standing in front of me wearing sweatpants and "Dafna" slippers and thick glasses. I immediately stopped being nervous because I realized there was a completely normal man standing in front of me. He offered me tea and I drank, and afterwards he said: 'Ok, let's hear it'. I played him the song and he told me: 'Why don't you record it yourself? You sing it great, better than how I can sing it'. That was actually the encouragement that made me start thinking I can sing professionally".
Singles, plays and more
Caspi started his first recordings with singles. Songs like "Efraim", "What will Become of Me", "Mine and Her Song", "The Happiest of Men" and others, have never made it to a CD. During that time, Caspi managed to write music for two plays -"Lilly Too",and"City of Men", as well as writing for festivals and other artists.
"Behind the Sounds"
The collaboration with Shlomo Gronich was before the debut album."Behind the Sounds"became a successful concert. The album was considered to be the most psychedelic and the boldest ever recorded in Israel until then. It included the hits "A Painting", "And You", "Ben Gurion", "When God First Said", and more.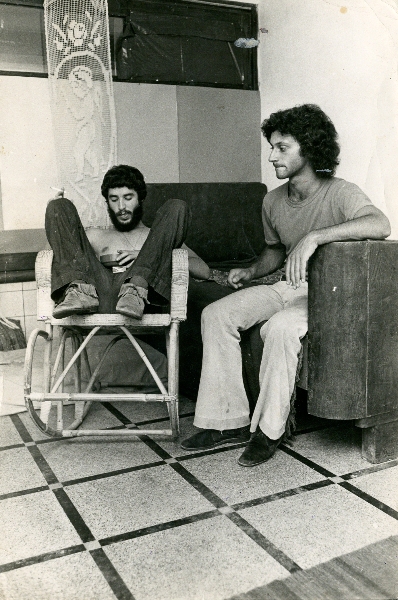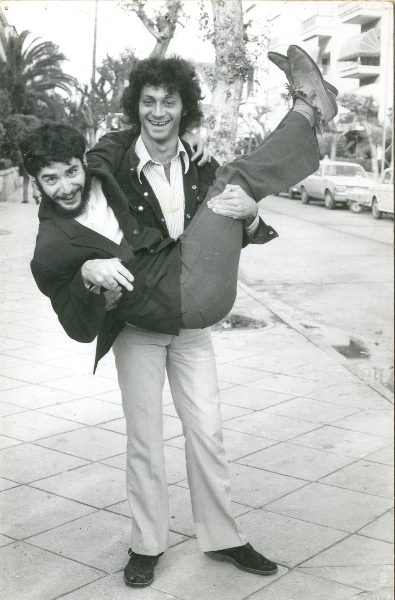 debut album
After six years of productive creation, Caspi released his first album in 1974, without a name, at the Triton studios which were in their first days back then.
Caspi was responsible for playing all the instruments, composing, arrangeing, producing, and even helping with the studio's new equipment operation.
The album included some of Caspi's known songs along with some new ones, songs of poets, "When God First Said", "And You", "My Balloon" (which was dedicated in memory of Roman Sharon, the start of the play "Lilly Too" to which Caspi wrote the music), "Noah" - a big hit from the music festival accompanied byChocolate, Mint & Gumand the BA (Broadcasting Authority) orchestra.
In the album's first edition alone, there was another piece - "Condition" which was omitted from all other editions later.
A glove on a hand
The second album, released in 1976 and also without a name, is widely considered Caspi's best album and one of the best ever released in Israel. It included hits like "Here Here" (which was originally written in 1975 as a commission by Galatz after Caspi and Manor have been awarded best composer and best lyricist, respectively), "Everlasting Alliance" which became a signature song of Caspi, "No Peace", "Never Knew You'd Leave Me" and more.
Ehud Manor was responsible for most of the lyrics, you could say, from there on, until his passing in 2005. At first Caspi would go to Benyamina, receive some lyrics from Manor, sit hours with the guitar and come up with a song. Later Manor started matching his lyrics to Caspi's melodies. "My relationship with Ehud is very special. We have a chemistry that's hard to explain with words. His lyrics to my melodies create a feeling that it's as if we're writing the song together, as one person. The lyrics he writes to my melodies fit them like a glove on a hand".
Already in 1976, Manor and Caspi sent to the Eurovision the song "Say Goodbye" with "Chocolate, Mint & Gum". The song won sixth place.
Another two years had passed until the successful album"Side A Side B".was released, which included songs recorded by others in the past, and were recorded again by Caspi this time. There were songs like "Like a Wheel" (which back then was performed by Ofra Fux), "In the Hot Summer Nights" (originally performed by "The Cannons Group"), "The Day will Come", and "Song of the Dove" (By Netanela), "Eliezer Ben Yehuda" (Hava Alberstein), and much more. It was an enormous success.
A bold tribute album he released at that time was"Everybody Sings Matti Caspi"., which was a huge collection of big hits he composed, but with the original performances this time. Among them there was also "Son" performed by Netanela, "May the Night Never End" (by Nose, Ear and Throat), "Who has Seen Bunny" (by Tiki Dayan), "It's Good at the Kibbutz" (by Dudu Zakai), Caspi himself performed "How Many Songs Can You Invent at All", his first attempt at writing lyrics.
Now Caspi was producing the album and the concertA Beautiful Tropical Land, which was actually responsible for the Brazilian music wave that swept the nation afterwards.
The next album was the children's album"Another Side", and laterTwilight, also a bestseller. The aim was different, music inspired by reggae ("Days of Drought", "A Hebrew man's Reggae"), from South-American rhythms ("You will Take the House"), the hit "You will Find the Way" and even a 50's romantic style song ("Whoever Sings").
World music
About his musical inspirations says Caspi: "I have no control over my creation. The whole song is born with its own rhythm. There are no early decisions about what suits the song. If it's born a ginger - it's like that from the start… Of course, it's also a result of influences and inspirations, since I don't live alone in the world, and just like others I also listen to music". Caspi is also influenced by Eastern-European Gypsy music. "Once I used to listen a lot to folk music radio programs on Saturdays. I swallowed those sounds at the 'parents room' in the kibbutz". When it comes to Brazilian music, Caspi claims he's not necessarily inspired by it, but really likes its rhythm, and speaking of inspirations - his origins of course are mostly about Eastern-European Gypsy music, the uneven rhythms of Balkan music, as he first heard it from his grandfather who was born in Romania. In general, Matti Caspi draws inspiration from any known genre he can find, and when asked once to define his genre, he replied: "World Music".
Caspi has won many awards for his work, including the "David's Violin" award. On many radio programs, most of the song played are in one way or another of Caspi - whether as a performer, composer, arranger or producer.
Collaborations on and off stage
The next two albums of Caspi were from the melodies of Sasha Argov,Matti Caspi Sings Sasha ArgovandMattityahu and AlexanderCaspi gave the songs a new vocal interpretation, and played the synthesizer, piano, bass, mandolin, drums, percussion, and accordion. Matti Caspi speaks highly and in admiration of Sasha Argov and says he would've wanted to write music like him. The two have performed songs from the albums together where Caspi sang and Argov accompanied him in the piano.
The albumMy Second Childhoodfrom 1984 included the songs "My Second Childhood", "My Girl", "A Clean Folk Song" and more.
In the album"Side C Side D"from 1987, Caspi renews his song again: "Days of Benyamina (performed by Hava Alberstein), "It's No Good the Man Being Alone" (performed by Danny Litany and Yehudith Ravitz), "Woman" (performed by Hanny Livne), "You Took my Hand in Yours" (performed by Yehudith Ravitz) and more.
"One to Onefrom 1988 is an exciting album where Caspi plays only one instrument in each song (piano or guitar). The album included the hits "Forgiveness", "Return Oh Shulamit", and "She Converted".
On stage Caspi collaborated again with Gronich."Behind the Sounds"returned again as an album in 1984, as a third concert in 1989, as small albums in 1990 and 1992, and as a fourth concert, which also became a double album, this time with both of their wives, in 2002.
With The Suburbs Caspi performed in a concert made out of song from South America, which came out as an album calledA Distant Love Song".
From Brazil, Caspi brought in 1987 a Brazilian band and together they went on tour and released the successful album"An Amazing Tropical Land".".
Two important albums Caspi produced in the 80's were for Riki Gal: "Riki Gal" in 1987, and "What is Love" in 1988. Caspi was responsible for composing, playing all the instruments, arranging and producing. The album included many hits, among them "Boy You Can't, Boy You Can", "What is Love", "West from Here", the scandalous "Rock Girl", "A Place for Care", With Little Grief, and Not So Much Sadness", and many more. The amazing crop gave birth to a big success both of the albums and the joint concerts of Caspi and Gal.
Another series of Caspi's concerts in the late 80's was with Shalom Hanoch, and also there were concerts with the philharmonic to which Caspi had written and arranged music. Regarding shows, Caspi says: "I have no fear making mistakes on stage, as long as the technical part is perfect. On stage I'm looser than in any other situation. I bring to the stage the results I made at home just as they are. Unlike a commercial evening built on the audience's instincts, I build the shows based on my instincts. I don't acquire a director or a stuntman to help me work with the audience. If there's a new fashion trend, no one will ask me to wear clothes of that fashion trend on stage just to engage the audience more. I wear my own clothes, the ones which are not in the laundry that day".
Caspi has written so much for others, and mostly produced and arranged for other artists during these years, saying he loves the studio work, especially the results of certain raw materials. Matti says he doesn't write the songs on commission, but "hands over melodies" since he first writes the songs for himself, and only later he discovers a certain song suits better another singer. Those who have enjoyed performing Caspi's songs were Oshik Levy, Hava Alberstein, Netanela, Nurit Galron, Yehudith Ravitz, Danny Robas, Gally Atary, Arik Sini, Meir Bannai, Erez Halevy, Shoshana Damary, and many more.
Caspi opened the 90's with the album"Songs in a Tomato Juice"It was a joint horsing around album of him and Ehud Manor, where Caspi had taken part in the writing of the funny lyrics. The album also included a new version of the skit "Moris and the Pigeons".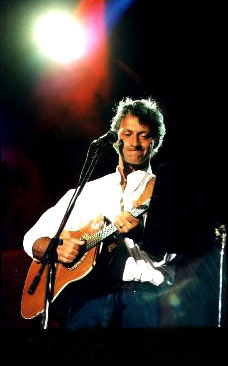 ""Bubba Matti", Caspi's next project, was both an album and a videotape with children songs.
In 1993 the album"Matti", a personal album which included lyrics by Ehud Manor specifically about Matti. The album included the songs "Who Told You I'm an Angel", "The Airport", "At the Piano", and more.
With its release Matti left the country for four years, where he lived in Canada and in the USA. During these years he worked with Riki Gal on their third album - "Loving You More", and just like in their former albums, Matti was responsible for composing, arranging, playing the instruments and producing. This time his wife Raquel also took part in the composing, and later on (1998) Matti produced her the album "Raquel" in Portuguese.
With his return to Israel, in 1997, Matti was received warmly and with lots of yearning from the Israeli audience, and immediately went on a very successful tour. The first show from that tour was recorded and released as the album"Matti Caspi - Live in Arad".".
The album from 1998"Another World",, was also a personal album, where Caspi tried writing lyrics seriously for the first time: "The lyrics come to me rarely, bit by bit, but better than before. In this matter some of the 'blame' goes to my wife Raquel. I never thought I could seriously write lyrics, but the truth is she pushed me to do it and just proved to me, or made me prove it to myself, that I can write. It's not going easy, but it eventually works. There is a different kind of struggle in writing than in music, a struggle I don't know, because when I write music I write out of inspiration and it comes to me so fast when it does". Raquel Caspi contributed most of the lyrics to this album.
Ever since his return to Israel, Caspi teaches in many places, from schools to arrangement, production, and vocal training courses.
The year 2000 started with the album"Matti Caspi - Duets", an album that symbolizes "an implementation of a collaboration with various artists as it really should be" according to Caspi. Among the participants in this album were Aviv Gefen, Hava Alberstein, Rammy Kleinstein, Shoshana Damary, Etti Ankri, Danny Litany, Yehudith Ravitz, and many more. Matti Caspi tells that it was his dream to "work with fellow singers and let their personality take over the studio, so that I'd be able to match my style into theirs. It's not only my satisfaction, but also the importance of collaboration with artists with whom I never worked before. Which implies that much can be done with a song, besides being content with the one known version of it. Music is available for other people's use".
The collaboration at that time was reflected also in joint concerts of Matti and other artists:
Raquel Caspi, Yonni Rechter, Ehud Manor, Yehudith Ravitz, the Toucan Band (Brazil Summer Time), Meir Bannai, Rammy Kleinstein, Aviv Gefen, Riki Gal, the Suburbs duo, and the pinnacle - renewing the show"Behind the Sounds""Behind the Sounds" with Shlomo Gronich in 2002.
This show, where both artists' wives have also participated - Raquel Caspi and Michal Adler Gronich, was also recorded in a double album.
After a successful campaign for"Meridol", Caspi returned to the studio and released the album"You are my Woman"., which was also accompanied by a successful tour.
Back in that time there were several joint concert of Caspi and the Kibbutz Chamber Orchestra, as well as with the Raanana Symphony and the Rishon Lezion Symphony.
The prestigious AKUM award for life achievements was awarded to Caspi in 2004.
In 2008 Caspi and Gronich continued their concert together and even wrote a new song.These concerts went on until 2011.
In 2010 the album"Soulmate", was released, and included new melodies for lyrics of Ehud Manor (RIP), which were found at his house after his death.
At that time Caspi participated in an amusing campaign for"Bituach Yashir" (Direct Insurance), and came out with a special show for kids called: "Mati'le Yeladim" (or: Matti for Kids), which had songs he'd composed and stories he'd written.
In 2011 Matti lead a special show consisting of his biggest hits with the Israeli philharmonic. The show was a huge success and is intended to be released as an album.
Later Caspi took part in the successful TV show"Music School"on The Second Channel.
In 2012, after 25 years, Matti Caspi and Riki Gal reunited in order to raise the mythological showWhat is Love".
In 2013 a research book by musicologist Dr. Zippi Fleischer was published -"Matti Caspi - the Magic and the Riddle"- a deep encyclopedia which spreads the harmonic, rich and distinguished world of Matti Caspi based on an analysis of forty of his songs, while discussing the depths of his life and all that has influenced him. The encyclopedia is available in three volumes at the musicology faculties in national universities.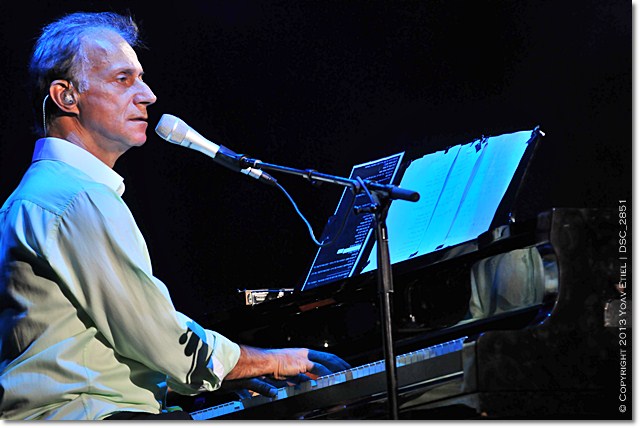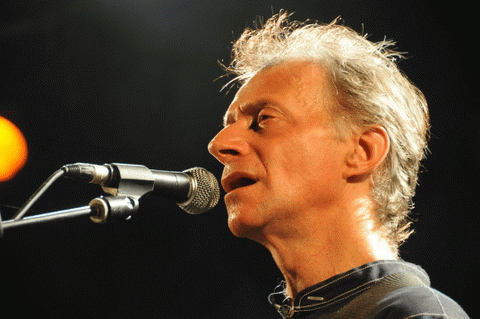 Matti Caspi is one of the most appreciated musicians in Israel. His mark was left in every production he was involved in: a combination between technical brilliance and inner truth. Caspi has played a vital role on the Israeli music stage for more than three decades. Each production had immediately received a praising criticism and success. Although he is a beloved artist, Caspi stays away from popularity. Instead he focuses on developing and expressing his "inner truth" through music. "If I want the audience to believe in what I'm doing, I must be myself". Matti Caspi uses his memory to measure the quality of the music he makes, saying that if he doesn't get touched by a song, he simply forgets it: "I've never written songs in order for them to be liked. If I did that I wouldn't be myself. I write songs that come from within me, and if they don't excite me I forget them. And if there are two more people that liked them, that's an audience and I can't disappoint the audience. I can't suddenly write something everyone will like and use only my talent without inspiration". But Caspi's inner focus has never lead him to musical bigotry. He always searches for new sounds and musical combinations. The result is a unique merger of rhythms and melodies which encompasses humor, tenderness, romance, happiness, playfulness and beauty.
Musicologist and researcher Dr. Zippi Fleischer says that Caspi in her eyes is the most important music artist in the last decades, not only in Israel but in the world. "He's the genius in the gang, he's an important milestone in the history of world music". In her opinion, Caspi is a spot on the line that stretches from Bach to Gershwin. "Only Caspi has invented an entirely new language of his own. I sit down and try to analyze his harmonies, and am amazed again each time. The fact that he also performs and arranges and conducts, has created some sort of closing and shyness, but the truth is he's a musical wildman. He's the one that pushed the sophistication and the western style in Israel".
Over the years Caspi has established a methodology of musical arranging and development which is taught in universities and music academies in Israel. The Hebrew University in Jerusalem, for example, has a course titled: "From Schubert to Matti Caspi".
"I believe in my music. I've never used recipes to make a big hit, nor did I look for them. Every song of mine that was a success has made me happy. I know that if I stay true to myself, the audience will stay true to me and I to them".