Much has been said about the relationship between Matti Caspi and Ehud Manor.
Matti has said about Ehud: "My relationship with Ehud is very special. We have a chemistry which is hard to explain in words. His lyrics to my compositions create the feeling that we're writing the songs together. The words he writes to my music fit like a glove to a hand… Ehud Manor knows how to translate my music to words in the best way I know".
Ehud called Matti "soulmate", "the man in whose soul my soul is kept" and always said that Matti has never corrected a word he wrote, as he has never corrected one note Matti composed. They commonly used the phrase "I don't have to exchange words with him" on one another, an example for it can be found in the story about the song "Twilight" which was written about Matti Caspi's dog - Igloo, who died: "I went to London to see Ehud who was studying at Oxford at the time. I stayed with him for a week and composed the entire album "Twilight". Ehud wrote the lyrics for most of the songs. And when I gave him the music about Igloo I said nothing… he went into the other room and came back with lyrics about Igloo. So there must be a special connection with Ehud that binds me to him professionally for so long".
At the time when Matti lived in the USA Manor wrote for him two songs which expressed his longing and were also meant to encourage Caspi. They were "More Time" and "A Sea of Yearning", both written for compositions Matti had sent from abroad. Matti wanted the second composition to be a song about his daughter Suyan, but Ehud wrote lyrics about how he felt towards Matti that time - a sea of yearning. Therefore, the lyrics were given instead to Yehudith Ravitz who composed a different song for them. The melody for which Ehud wrote the lyrics was Matti's song "Suyan" which later had been given new lyrics written by Raquel Caspi and is featured in the album "Another World".
Among the things Ehud Manor has said about Matti Caspi, these are the most eminent:
From the album cover of the Media Direct Collection, 1999
Matti Caspi's music, is to me, a source of happiness, comfort and inspiration. When I met him thirty years ago, he was a dancing soldier and was singing with the military band "Southern Command". The first notes he played in my ears worked like a magic potion and I heard in them an intimate and touching response to the feelings I wanted to express in words. Matti's music is defined by depth, sensitivity, warmth, humor, sadness, pain, optimistic pessimism and pessimistic optimism. All these ingredients which coincide so naturally in our lives, unite in one masterpiece only on rare occasions.
Matti's music is that rare songbird. It never gets old because it's so original, special and complex as the human soul.
Furthermore, Matti Caspi is a wonderful singer, and don't let the softness of his voice distract you from the huge technical ability and impressive range.
I love him, and I know I'm not alone in that matter.
A piece from Ehud Manor's book - "I Have No Other Country"
As I look at the somber picture on the cover of the collection record "Twenty of the Best Songs of Matti Caspi and Ehud Manor" (released in 1994, including twenty of our old songs which were collected from Matti's first seven albums in NMC, between 1974 and 1987), I'm reminded of the day we were photographed for an article in the newspaper, in the studio of the marvelous Vardy Cahannah, somewhere around Masger street in Tel Aviv. It was in 1992, during the days Matti had a difficult time. The press back then was always sniffing around about his private life, and the articles - "interviews" that insisted on breaking the record for bad taste - has made a heavy damage for his reputation and career. Vardy let us stand in front of her camera the way we wanted, but in the big empty space she put only a box, and so we sat close to each other, more or less leaned on one another, and almost still. Matti may not be much of a talker, yet his body language and the specific tone of the words he utters, can project much warmth. That one hour of shooting the pictures gave us an opportunity to some sort of a breakdown, some sort of an attempt to a renewed proximity after a fragile year filled with stress, during which I wrote lyrics for Matti's tortured melodies, which produced the forsaken album "Matti" (our best, in my opinion) with songs like "Who Told You I'm an Angel", "The Airport", "Don't Cry For Me", "In the City Nights", "A Hundred Year Old Boy", and "At the Piano".
Matti Caspi and Ehud Manor once every two - three weeks I would arrive at his place with lyrics in my hands and a tremor in my knees, and he would read the lyrics, hum them to himself quietly, and then lift his head up, stare me at the eye and almost always say: "Very good. That's exactly how I feel".
I love talking and joking with Matti, and I never got bored of his company, but we barely spoke a word about the content of the songs we wrote together back then. Matti's melodies usually came before my lyrics, and the words, as if by themselves, read his music and found their place in it. In his music I've found, as always, the emotional stimulations for writing and full internal mobilization. I first met Matti in the late 60's, at the house of composer Nurit Hirsh (my first big musical love) in Tel Aviv. One day while we were working at the piano, there was a ring at the door. At the entrance stood a young and very slim soldier holding a guitar in his hand. "Is this where Nurit Hirsh lives"? - "Yes". - "I wanted to play her some of the music I wrote". Even before Nurit had the chance to reply, he already sat down and started playing. I was astonished. His melodies were both sad and happy at the same time - they projected yearning and pain and tormented love and humor. Just like the songs that made me feel immense excitement and made me want to write lyrics as a boy, when I listened to American records. And the voice, his voice.
The relationship that was created between us that day was never disconnected since. Even in his first radiophonic performance in "First Applause", he played the first song we wrote together, which never appeared on a record, "A Witch on a Broomstick" ("Mice went out dancing, at the barn of Ein Harod"…). Our work sessions became more and more often. Matti became a family member at Ofra and my house. Back then we lived on Disengof street, Matti lived not far, in a rented room on Mendelson street, and would often come to us with new and enchanting melodies that became songs. "We Haven't Talked about Love Yet" (written for Susanne and Fran, and later for Netanela), "Days of Benyamina" (for Hava Alberstein), "A Love Song" - "Like a Wheel" (for Ofra) and more. Only years later he told us he used to arrive near lunch time in the hopes of getting us to invite him for the family lunch.
Ofra and I missed him terribly during the years he lived in the USA. We wanted him to surprise us at lunch again.
At the supermarket I would always stop at the waffles and biscuits aisle, think about what carton I would choose if only he appeared at our doorstep like before, sat in the kitchen and dunk half a kilo of cookies in two cups of melting coffee.
I once again go over the list of songs in our collection album and discover in them our biographies: in "My Balloon" from the musical "Lilly Too" which we wrote for the Haifa Theatre in 1973, in "Here Here" which we wrote for the 1975 yearly Music and Lyrics Festival of Galatz, when we were selected as best lyricist and best composer of the year, in "Everlasting Alliance", in "My Second Childhood", in "Twilight", and in "Whoever Sings".
The two latter were written in 1981 in England, when I lived there with my family for studying. One day Matti called us and asked: Can I come over tomorrow for a week? Yes of course. And he indeed came for a week with six new melodies to which he couldn't find the right words. Matti needed me and said so. There wasn't a happier person than me that week. Each morning, right after he made the "Hannita salad" (named after the Kibbutz where he was born) but an improved one (finely chopped vegetables with lemon, olive oil, salt, and fine white pepper powder - white pepper only), we would sit down and work until the evening.
Whoever sings, whoever has a song tied to their heart, wouldn't tell me I can't discover, when the road ends, another road. Whoever sings, even out of tune, has god caressing their head, and then for a moment, whoever sings is happy.
On April 12th 2005 Ehud Manor passed away unexpectedly as a result of a cardiac arrest. Matti Caspi, struck with sadness, was asked to sing their song "Someone" at the funeral. Before he sang, he memorialized him with the following words:
Video clips of Ehud Manor's funeral:
Things Matti said above Ehud Manor's grave, April 13th 2005
I'm younger than you. You've always told me you were older than me, you were born first, nine years earlier, and I told you - hang on, I will beat you to it.
But now you're lying down here and I'm watching you with my nose up. A little ironic.
I don't know what to feel. I've sorted out two sentences which I think say everything:
How suddenly there are no words, and the songs bow their heads.
Also mourning are the notes, who loved to meet Ehud's words.
You said we were soulmates, that I was your soulmate. I feel orphaned. I was orphaned by you. I feel disabled, for who will complete everything I create, who will fill in the words? I don't think there ever will be someone like that. I think I'll also refuse to have another person like that, because it's impossible.
Everyone is sad.
You also had something funny in you. We talked nonsense together, such as a heavy heat wave is outside and here I sit alone… Wagtail, wagtail… all sorts of nonsense you only said when you made sure you were alone, in the shower, in the car, and sometimes you would look in the mirror to make sure no one was watching you unnoticed…
That's how I was as well. And then we met in order to give ourselves some kind of therapy which will fill out that space in the heart of so many people like us, those who have that simple healthy sense of humor, and even those who are embarrassed to laugh, those who want to seem smart. But you allowed yourself to laugh and so did I, and yes, we probably were soulmates.
After Ehud Manor's passing, Matti Caspi told that in Ehud's (RIP) house there were many hidden songs he wrote that no one ever saw. Caspi received the first right to the songs and decided his next album will include new compositions for those songs and will be titled"Soulmate"".
The album "Soulmate" came out in 2010 and is indeed made from lyrics which had never seen the light before, written by Ehud Manor. Also featured in the album are Yehudith Ravitz, Idan Reichel, Shirri Mimon, Suyan Caspi, Sima Shoshan and Chen Amar.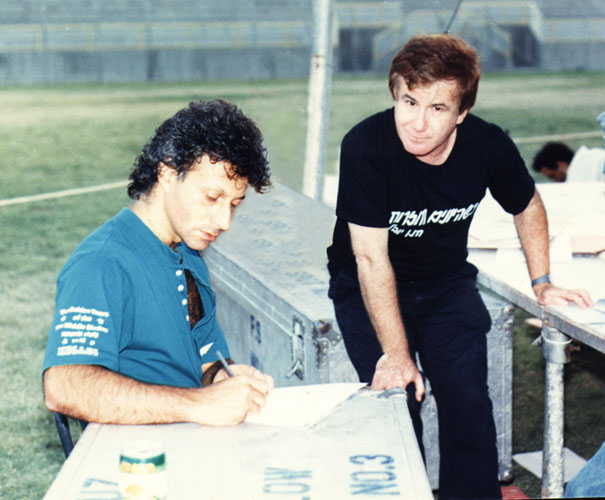 The story behind the song "Who Has Seen Bunny"
From "I Have No Other Country" by Ehud Manor, pages 224-227.
I will never forget the night Bunny passed away at an old age (almost fifteen), the night I single handedly buried her somewhere in the sands of northern Tel Aviv. Even on her fourteenth birthday Bunny was a happy and mischievous dog, with a young and lively spirit. When we walked with her and our other dog Scottie (who was five back then), all who saw us thought Scottie was the older one of the two.
For several months we followed with worry Bunny's health deterioration. Her eyesight and hearing have worsened. In order to take her out for a morning or evening walk, we needed to look for her around the entire apartment first, and carry her in our arms up and down the stairs. When her breathing became difficult, the vet prescribed some pills for her and it was a small relief.
But the dog who up until recently used to gallop quickly to the sofa in the living room and make herself comfortable at her favorite spot, was now with her eyes silently begging us to carry her there. And from her favorite spot on the sofa, with her head on her private pillow, she was sending looks of gratitude for us all.
Our children who grew up with Bunny (their best friend and confessions priest), have expressed their concern in light of her condition, but found comfort in the encyclopedia it said that there were dogs who have lived for more than twenty years. They treated her with much kindness and tenderness, which meant sacrificing the last piece of schnitzel in the fridge more than once.
Gally was three years old, and Libby was six months old, when their mother couldn't resist the eyes of the puppy gazing upon her from a cage, inside a pet shop on Frishman street in Tel Aviv. When our son Yehuda was born two years later, and we went to visit him and Ofra at the maternity ward, Gally and Libby insisted that Bunny also deserves to meet the latest family addition and take a part in celebrating. The nurses at the maternity ward didn't share the same excitement, and Bunny had to wait for us at the end of the hallway behind the entrance door. When we came back to get her, after a few minutes, we couldn't find her. Nobody has seen or heard her. We waited and searched for her for two hours but in vain.
Two days later Bunny came home by herself. From a dog that didn't seem very smart (she would bark on guests who left our house), we didn't expect such amazing resourcefulness. And then I wrote "Who Has Seen Bunny"?
On her last day, in the afternoon, we noticed Bunny wasn't the same as yesterday. She stood frozen, as if thunderstruck, in the middle of the living room, and just stared at the space. But when her food bowl was placed under her nose she showed signs of consciousness and interest again. In the evening she watched with us the "Look" issue on TV.
At nine thirty the kids went to bed. Ofra layed Bunny on her knees and pet her for a long hour. Suddenly Bunny stretched her legs, lifted her head up as if to say something, and died silently.
For an hour Bunny laid there lifeless on her favorite spot on the sofa, while Ofra and I stared at her hardly holding back the tears. And that night at midnight, I single handedly buried Bunny in the hole I dug in the sands of northern Tel Aviv.
How will we tell the kids in the morning?
Ehud Manor talks about Matti Caspi
On May 5th 2003 Ehud Manor guest starred at the Israeli Music Forum in "Walla!", and unsurprisingly most of the questions he was asked were about Matti Caspi or his songs:
Q: What was your first song that was composed? What was the first song Nurit Hirsh composed? And the first song Matti Caspi composed?
A: The first song that was composed was "The Houses that Ended by the Sea" by Nurit Hirsh. The first song Matti Caspi composed was "Your and My Song".
Q: Some of the best songs were composed by Matti Caspi - "We Haven't Talked about Love Yet", "A Love Song", "Everlasting Alliance". My question is, how do you fit the right artist to compose the song that needs to be composed?
A: In the three songs you mentioned the music came before the lyrics, so I actually fit the words to an existing melody. I really like that method and especially with Caspi's music, who doesn't need words in order to blossom.
Q: I wanted to ask about your enchanting friend Matti Caspi: if you could tell us a little (better a lot) about your work and friendship relationship. And if it's alright, something you usually don't tell during your joint performances.
A: While working with Matti Caspi I sometimes forget where I end and where he starts. Our collaborated work is what makes me feel the closest to who I am. Since as a lyricist you always have to find yourself in the composer with whom you work, and in the singer who will perform the song.
Q: I would like to note that my favorite song of yours is "Days of Benyamina", and I wanted to ask - you have a number of songs that reflect yearning and longing to childhood (Guarded Dreams…). You always describe yourself in those songs as an innocent and dreamy kid. Were you really like that as a child?
A: The answer is positive. Sadly, people are normally not their best when they grow up. Most of the beautiful human qualities I attribute to teenagers, and over those memories I build quite a few of the contemporary songs I write.
Q: For many years I've thought the song "Someone" is a yearning song about a lover who's far away, until I heard Boaz Sharaby's performance. When Boaz sang it, it was clear that the song is about yearning for a loved one who's no longer with us. Aviv Gefen once told, during a shared concert with Matti Caspi, that the song was written for your brother Yehuda. Is it true? And if not, for whom was it written?
A: The song "Someone" is a memorial song for my late father who passed away when I was in my teens. Yehudith Ravitz in the original recording sang naturally instead of "I know" (masculine tense in Hebrew) "I know" (feminine tense in Hebrew). Boaz Sharaby identified a lot with the song, and after his father's passing included it in his album "Covers".
An interview with Ehud Manor about "Behind the Sounds"
In late 2003 Michal Caspit Bobrov and Ofer Shenar turned to Ehud Manor (RIP) and asked him to be interviewed for the writing of a book about "Beyond the Sounds". As someone who has accompanied and participated in the making of the album with Matti Caspi and Shlomo Gronich, from their beginning and until today, Ehud Manor has a unique point of view on the connection that formed "Behind the Sounds". Here are Manor's (RIP) words:
Matti and Shlomo together are like a connection between ice and fire - You've got to love them
The encounter with Shlomo and Matti
I'd known Shlomo even before I knew Matti. He was the son of my music teacher - Otto Gronich - in whose band I played. It took me two years to convince him to let me pass from the tuba to the clarinet…
I met Shlomo again when he was a student in the Hadassim school. He was a handsome young boy who studied in the same class with Ronnie, my wife's cousin. When I returned from a stay in the USA in 1966, Shlomo gave me through Ronnie a tape containing songs he'd written. The melodies sounded Italian to me, like a San Remo festival. The lyrics to the songs were in English, if I'm not mistaken. I told him it was beautiful, but it had no hint of the music that would come out of Shlomo later. Later I saw Shlomo perform at the graduation ceremony of Hadassim, when he and Ronnie graduated. The next time I encountered Shlomo, he was already working with Matti Caspi.
I first met Matti Caspi when he was a soldier in the military band. He lived in Tel Aviv on Shlomo Hamelech (King Solomon) street, and composer Nurit Hirsh lived nearby. One day, as I sat with Nurit Hirsh, Matti, who knew she lived there, simply knocked on the door and asked to play her some of his songs. He sang with no lyrics. I loved what I heard very much, and we began working together. Our first song was "A Witch on a Broomstick" which was recorded for the radio program "First Applause".
About the shared creations
Unlike the collaboration between Matti and Shlomo, Matti and I never wrote songs simultaneously, besides the song "Here Here". Matti usually doesn't need lyrics in order to blossom in his work. Matti likes working with musicians and singers, but not with other creator artists, such as composers and lyricists, and therefore I find it hard to understand how he and Shlomo succeeded working together as two artists.
Shlomo and Matti are two artists who are very fanatic about their work. I don't know what enabled them to create together, maybe the mutual appreciation, only musicians know when they meet someone in their league. The shared creation stemmed from a burst of excitement.
We can try and identify the different contributions of Matti or Shlomo in each of the songs, yet still I remember I asked them once about one of the songs and I had a surprise… they are clever and creative enough and can complete one another with each of their voices.
Lilly Too - the collaboration that never happened
In 1972, following the "Beyond the Sounds" concert, I asked Shlomo and Matti to write the music for the play "Lilly Too". They agreed and even wrote a song: "Dear Husband and Sweet Wife", but a week later Shlomo backed up. Until today I don't know why, but I remember being very disappointed because of that. Eventually Matti composed all the music for the play by himself.
Popularity, avant-garde
Shlomo and Matti were aware of their distinction in the Israeli music scene, and quite liked it. Shlomo was a natural rebel, but Matti wasn't. Shlomo liked to defy and shock the audience. He purposely wrote anti the various music festivals. His rebellion fit what was happening in the international rock scene that time. Shlomo created an alienation because of the way he presented his songs and the songs themselves. Matti also had some sort of alienation, but it probably came as a result of cleverness. Matti wasn't connected to the style of the time, but to existing, folk music, like the South American music. Shlomo, however, came from a very clear background of classical music, and he didn't want to do what classical musicians did. Matti had no choice, he didn't know any other way.
Those who bought the album in the early 70's were those who've also seen the concert. The concert had fans from the first moment, despite not being a commercial success during the first tour round. Matti and Shlomo's stubbornness was justified - there was no attitude here.
In the beginning only very few radio program editors liked Shlomo and Matti. It took some time before they became popular. I however have played songs from their concert on my radio program.
Over the years, songs like "A Painting" and "Want Once More" have become Israeli classics. "A Painting" has entered the Israeli blood cycle. "God Has Mercy on the Kindergarten Children" was also carved on the national awareness. To a lesser degree, "Behind the White Fence" was also a national success.
The concerts
When Shlomo and Matti are together on stage, you just got to love them, they're very nice! It's a bond of ice and fire. They are simply captivating.
I have a feeling that the audience of "Beyond the Sounds" grew up with Matti and Shlomo. During the last round I was pleased to find many people from my generation in the crowd. I think it's beautiful. It's clear to me that Matti and Shlomo could successfully perform even in ten years from now.
I really loved the concert's last rounds, which were, in my opinion, much better than the first round. Already in the 80's Shlomo and Matti were much more trained and it was obvious they were improving. They also had much more confidence in their abilities, and their popularity.
In the last tour round I was happy to hear Shlomo perform Matti and my song: "Forgiveness". The performance is great, even though I really like Matti's original performance.
The influence
The bond between Shlomo and Matti had a massive influence on Israeli music. The 70's were, in my opinion, the most important and influencing years in the entire Israeli music history. During that time the most personal, complex, and interesting artists appeared. "Beyond the Sounds" has clearly influenced "A Little Different" and "A Tuned Sound". Yonni Rechter and Avner Kenner, who performed together as "Fourteen Octaves" were obviously influenced by Shlomo and Matti.